Pashtun Rights Movement Leader Arrested By Pakistani Police In Islamabad
28 Jan 2020
Gandhara - RFE/RL
Police in the Pakistani capital have arrested a top leader of a civil rights movement campaigning against alleged military abuses in the country's restive northwestern Pashtun tribal regions.
Lawmaker Mohsin Dawar, a leader of the Pashtun Tahafuz Movement (PTM), was arrested outside the press club in the Pakistani capital on January 28. He was protesting for the release of PTM leader Manzoor Pashteen, who was detained a day earlier. Nearly 20 more PTM supporters were also arrested during the clampdown.
"Such arrests will not prevent us from showing the true face of this state to the world," Dawar said in a brief video message from inside the police van that drove him and other PTM members from the protest site.
SEE ALSO: Pakistan Rights Movement To Protest Leader's Arrest
"This is state terrorism," former lawmaker Afrasiab Khattak, who took part in the protest, wrote on Twitter. "The way they dragged people, including Ali Wazir and Mohsin Dawar, the sitting members of parliament, to police vans, said it all."
The arrests come amid protest rallies in Pakistan, Afghanistan, and around the globe calling for the release of Pashteen, who has been charged with sedition, criminal conspiracy, and inciting public disturbance.
The government has not commented on the latest arrests. But Interior Minister Ijaz Shah said the police had arrested Pashteen because of a criminal complaint. "We cannot compromise if there is a criminal activity punishable by the rules, regulations, and laws of the country," he told Radio Mashaal on January 28.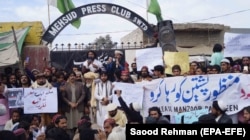 Shah, however, acknowledged the government should resolve political problems through dialogue. "There is no doubt that all problems have a political solution through dialogue," he said.
The arrests have attracted strong condemnation.
"I condemn the arrest of my National Assembly [colleague] Moshin Dawar and others protesting the detention of Manzoor Pashteen," tweeted Bilawal Bhutto Zardari, the leader of opposition Pakistan Peoples Party. "The government would be well served by remembering its oath to uphold the constitution of Pakistan. Peaceful protest is not a crime."

SEE ALSO: Pashtun Civil Rights Leaders Arrested Ahead Of Waziristan Protests
On January 28, PTM members and supporters from nearly a dozen other political parties and civic groups protested Pashteen's detention at gatherings in Pakistan's four provincial capitals and more than 20 other towns and cities across the country.
In neighboring Afghanistan, demonstrations in the capital, Kabul, and other locations condemned Pashteen's detention and called for his release.
PTM supporters among the Pashtun diaspora held demonstrations in Europe, North America, and Australia.
The 2-year-old PTM is campaigning for rights and security for Pakistan's largest ethnic minority, the Pashtuns. Most of its demands and grievances are rooted in the conflict in the erstwhile Federally Administered Tribal Areas. Tens of thousands of civilians were killed and millions more displaced by militant attacks and military operations in the region starting in 2003.
Noisy PTM protests calling for an end to forced disappearances, illegal killings, and other alleged abuses by the security forces have attracted tens of thousands in Pakistan's northwestern Pashtun belt and in major cities across the country.
The military has accused the PTM of undermining their gains by questioning its conduct in the tribal areas. Senior army generals have repeatedly accused the PTM of fomenting chaos and engaging in subversion by protesting against the security forces.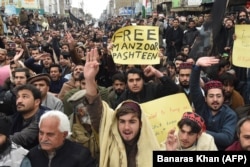 A crackdown including arrests, killings of protesters, court cases, and blanket media bans, however, has not deterred the movement's leaders from campaigning. Their message has resonated widely in an atmosphere of shrinking freedoms and increasing authoritarianism in Pakistan.
Global human rights watchdogs have called on Islamabad to cease its persecution of the PTM and instead engage in dialogue with the movement.
"The Pakistan government should find ways of resolving political disagreements with dialogue rather than intimidation," Brad Adams, Asia director at Human Rights Watch, said in a January 27 statement.
"Peaceful dissent is the essence of democracy and should not be treated as sedition," he added.
Most Popular
Original Link: https://gandhara.rferl.org/a/pashtun-rights-movement-leader-arrested-by-pakistani-police-in-islamabad/30402322.html